It's game day and you have friends en route to view the game at your home. You need quick, easy snacks that will entertain and impress these hungry fans – what will you do?!
Anne Byrn is here to help! With 10 simple solutions that start with a jar of salsa and end with satisfied guests.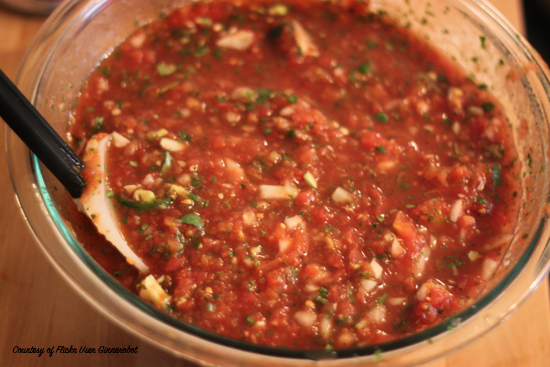 Most of Anne's suggestions for doctoring salsa don't call for exact measurements. Just pour your favorite salsa into a bowl and taste as you add any of the ingredients listed below. All the variations can be scooped up with tortilla chips, but a list of some other possible accompaniments is available in The Dinner Doctor (see below) for a change of pace.
1 Add avocado cubes, chopped fresh cilantro, and a squeeze of fresh lime juice.
2 Stir in mango chunks, chopped fresh cilantro, and a squeeze of fresh lime juice.
3 Fold in a small can of drained crushed pineapple and chopped fresh cilantro.
4 Marinate chunks of Mexican white cheese in salsa. Serve on a pretty platter with toothpicks for the cheese.
5 Stir in a small can of drained yellow corn for a quick corn salsa.
6 Combine salsa with drained and rinsed canned black beans and drained canned yellow corn.
7 Add chopped jicama, shredded carrots, and chopped fresh ginger.
8 Stir in a chopped fresh, ripe tomato.
9 Mix shredded radish and a pinch of ground cumin with salsa.
10 Add chopped canned tomatillos.
FOR FIVE MORE WAYS TO DOCTOR SALSA (And hundreds more recipes!) Check out The Dinner Doctor from Anne Byrn, $2.99 this month only!
The Dinner Doctor
by Anne Byrn
A marriage of the fast and fantastic, The Dinner Doctor proves that it's possible to cook meals for your family that taste great—and require little time, preparation, or hassle.
Making excellent use of slow cookers, embracing myriad shortcuts, boosting flavor and freshness with hundreds of ideas and quick touches, this cookbook brings all the joy of serving from-scratch meals into harried lives.
This month only—save 81% on this cookbook!
GET THE BOOK: Amazon | B&N | ebooks.com | Google Play | iBooks | Kobo