Jalapeño poppers are a lot more versatile than most people think. You can fill these little pepper boats with so many different things! Here I opt for the traditional cream cheese filling with an added twist of tots and bacon. I like this recipe because you can still see the tots after they're nestled into their jalapeño boats and tucked in with a nice bacon blanket.
Makes 16 poppers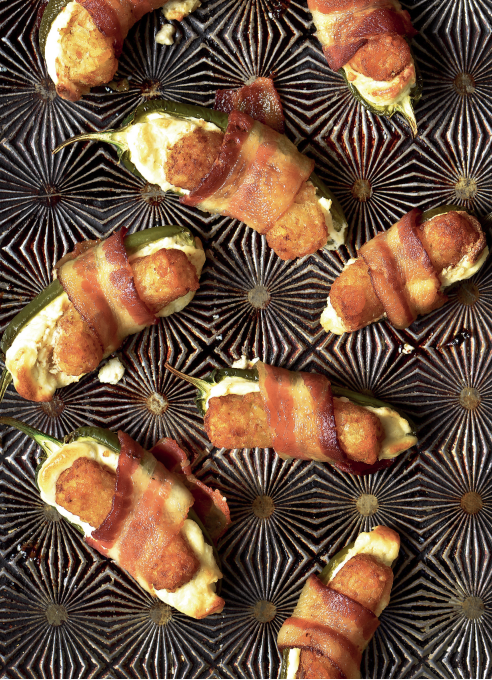 Ingredients
8 jalapeño peppers
1 block (8 ounces) cream cheese, at room temperature
32 frozen tots
8 bacon strips, halved crosswise (to make 16 strips)
1. Preheat the oven to 350°F.
2. Halve the jalapeños lengthwise, trying to keep the stem intact on both halves (this is easier to do if you start slicing at the stem end). Remove and discard the seeds and ribs.
3. Spread about a tablespoon of cream cheese into each jalapeño half. Place 2 tots, end to end, on top of the cream cheese.
4. Wrap a bacon strip around the center of each jalapeño half, aligning the strip so that the center covers the space where the tots meet, and wraps around to touch at the bottom of the jalapeño.
5. Place the jalapeños, filling-side up, on a wire rack set over a rimmed baking sheet and bake until the bacon is cooked through and the jalapeños are tender, about 20 minutes. Serve immediately.
Check out the book!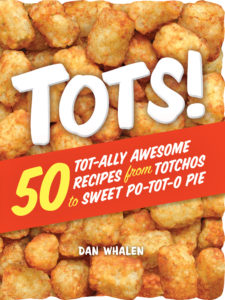 About the Book:
It's a fact: Americans love tots, and last year consumed 3.5 billion of them. And not just at home. From fast-food joints to high-end restaurants, chefs are joining the tot trend, serving exotically spiced tots or fun mash-ups like Totchos, with tots replacing the corn chips in nachos. But now, prepare for TOT-al domination! Created by mad-genius food blogger Dan Whalen, Tots! elevates the friendly little tater to its place in the culinary spotlight. This irresistible cookbook with a nubby tot-texture on the cover offers 50 delicious, playful, and surprising recipes for snacks, appetizers, inspired main dishes, and inspired sides, even desserts. (Yes, you could create an entire tot-centric dinner.) Here are party dishes like Buffalo Tots and Tot Poutine. A Tot Caesar for an elegant starter. Tots for breakfast, like Tots Benedict and a Tot Shakshuka, and tots for dinner—Moules Tots, Chicken Tot Pie, Tater Tot Pizza, and Bibimtot. Side dishes—next Thanksgiving, try Sausage and Tot Stuffing. And for sweets lovers, Tot Churros (deep-fried and dipped in chocolate ganache), Apple Tot Crumble (that crispy salty tot topping really plays off the warm sweet apples), and Tot S'mores—a heavenly melt of a dish. Every recipe uses frozen commercial tots—but Dan Whalen also shows die-hard tot lovers how to make tots from scratch and then alter their creations with different spices (think Tots Vindaloo) and sauces. It's TOT-ally awesome.
Buy the Book
Amazon | B&N | Indiebound | Workman