From Dad's Own Cookbook comes one of SIX menu posts designed to feed your family what they love, from Baby to Grandparents (and even the Dog!). See the full menu here!
From the author: Here is an easy and tasty way to prepare the "other" lamb chop. The aroma of the garlic sautéing will probably draw a crowd to the kitchen.
Shoulder Lamb Chops with Garlic & Rosemary
Serves 4
Ingredients
1 tablespoon olive oil
8 shoulder lamb chops, trimmed of fat
10 cloves garlic, minced
8 shallots, peeled and finely chopped
1 cup chicken stock or 1 bouillon cube dissolved in 1 cup boiling water
½ cup canned crushed tomatoes
2 tablespoons tomato paste
1 teaspoon dried rosemary
Salt and pepper
Equipment
Large frying pan
Medium baking dish
Aluminum foil
1. Preheat the oven to 350°F.
2. Place a large frying pan on medium-high heat and let it get hot, about 45 seconds. Add the oil and 4 of the chops, and sauté them until they are brown, about 2 minutes. Turn the chops and cook them for 2 minutes more. Transfer the chops to a medium baking dish and brown the remaining 4 chops.
3. Pour out all but a bit of the oil from the frying pan. Return the pan to the stove and lower the heat to medium. Add the garlic and shallots, and sauté, stirring often, until soft, about 3 minutes.
4. Add the chicken stock or bouillon to the pan and simmer until it is reduced by half, about 2 minutes. Add the crushed tomatoes, tomato paste, rosemary, and salt and pepper, and cook until the sauce thickens, about 2 minutes.
5. Pour the sauce over the chops. Cover the baking dish with aluminum foil and place it on the center rack of your oven for 20–25 minutes, until the chops are cooked through.
Serving Suggestions
Serve with orzo or boiled new potatoes.
Serve beets, sautéed escarole, or zucchini.
For help choosing the best cuts of lamb, check out Lamb Basics!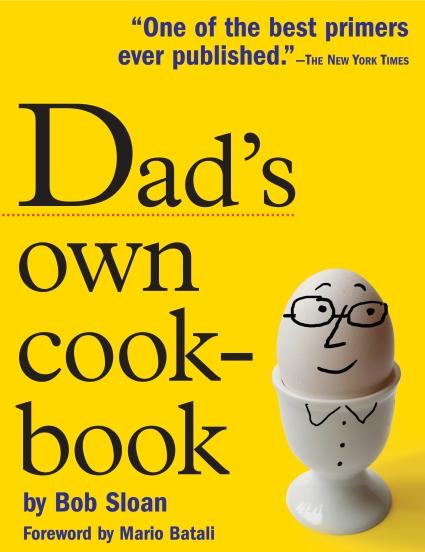 Dad's Own Cookbook
by Bob Sloan
Dad's Own Cookbook shows how to do everything from handling a knife properly to juggling three dishes so that dinner comes together on schedule. From basic eggs and breakfast in bed to homemade pizza and cocktail parties, its 150 great recipes will turn the most culinarily challenged dad into the family chef.
This month only—save 79%!