Lamb Basics from Dad's Own Cookbook. Use these tips to select your lamb cuts, and be sure to try the recipe for Shoulder Lamb Chops with Garlic & Rosemary!
From author Bob Sloan: Lamb chops are my personal favorite food. Thick chops simply grilled to a luscious pink medium rare with a glass of Italian Barolo is the way I like to celebrate special occasions. Other cuts, such as roast leg of lamb and shoulder chops, are both flavorful and easy to prepare.
Cuts
Whole leg is one of the most popular cuts of lamb and is the basis for many classic dishes. The whole leg comes either bone in and weighs 7–8 pounds, or boneless and weighs 5–6 pounds. Both should be roasted.
Butterflied leg of lamb is a boneless leg that has been trimmed and then opened up and slightly pounded out. Have your butcher do it.
Boneless loin roast, lean, flavorful, and succulent, is one of the premier cuts of meat. The whole loin actually comes in 2 pieces and each should be rolled and tied before roasting.
Loin chops are cut from the loin and include the bone. Chops should be cut thick, about 1½ inches.
Shoulder chops are also very flavorful but are not nearly as lean as loin chops. They are cut thinner and can be either broiled or panfried.
Lamb chunks, which are great for stews or curries, are usually cut from the shoulder, although a friendly butcher might give you some from the leg, which are a bit leaner.
Rack of lamb is cut from the ribs, and while there is not a lot of meat, what there is is divine and expensive!
Servings
A whole leg of lamb (bone in or boneless) will serve 8 to 10 people. A rack of lamb serves 2 and a loin roast serves 6 people. Allow 2 lamb chops and 2 shoulder chops per person.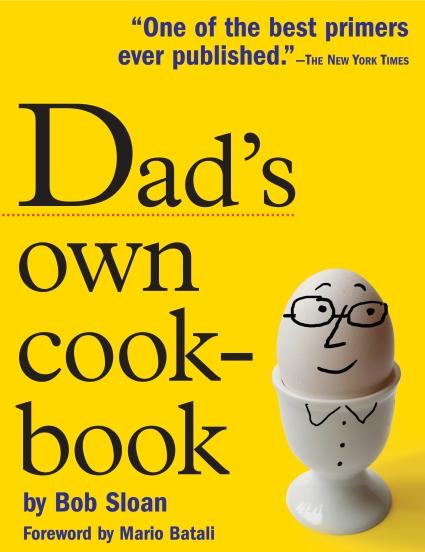 Dad's Own Cookbook
by Bob Sloan
Dad's Own Cookbook shows how to do everything from handling a knife properly to juggling three dishes so that dinner comes together on schedule. From basic eggs and breakfast in bed to homemade pizza and cocktail parties, its 150 great recipes will turn the most culinarily challenged dad into the family chef.
This month only—save 79%!