A book can take you anywhere—and summer is a great time to go on a reading adventure! We recommend reading at least 15 to 30 minutes each day. Read to yourself or aloud. You can also read aloud with a friend or family member and discuss the book.
Here are some questions to get you started:
Was the book a nonfiction (informational) or fiction (story/narrative) text? Why?
Who or what was the book about?
What is the setting of the story (where did it take place)?
Was there a main character? Who is it? Describe the character.
Is there a problem in the story? What is it? How is it solved?
Was there a theme in the story?
Were there any lessons in the story?
Why do you think the author wrote the book?
Jump-start your reading adventure by visiting your local library or bookstore and checking out the following books. Track which ones you've read, and write your own review! Would you recommend this book to a friend? Who would you recommend this book to, and why?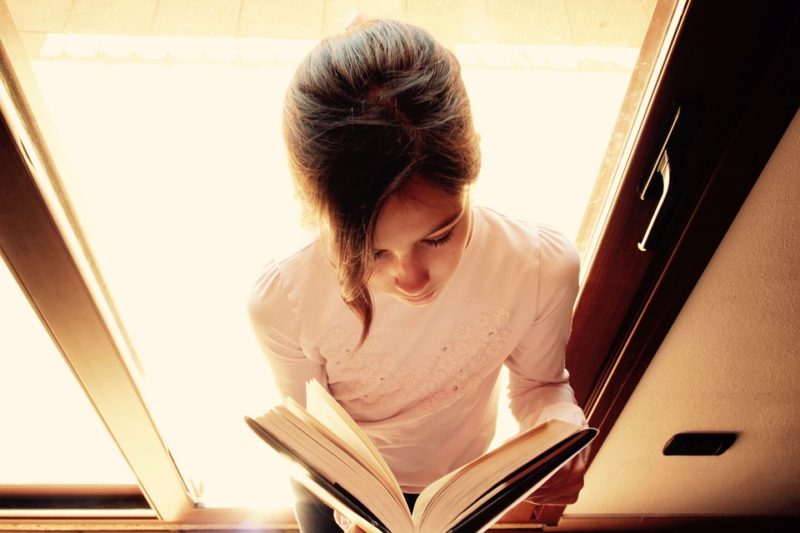 Fiction
Black Ships Before Troy: The Story of The Iliad by Rosemary Sutcliff
This retelling of the epic poem The Iliad has an adventure story for everyone, from abductions to combat, indescribable beauty to godly meddling. 
Blubber by Judy Blume
It all started when chubby Linda gave an oral report on the whale. Jill and Wendy won't stop teasing her, and it doesn't take long for the rest of the class to join in. Until the tables turn, and Jill finds herself on the receiving end of the bullying instead. . . . 
Bluffton: My Summers with Buster Keaton, written and illustrated by Matt Phelan, illustrated by Matt Phelan
It's the year 1908, and a troupe of vaudeville performers has taken the sleepy town of Muskegon, Michigan, by storm. 
How Tia Lola Saved the Summer by Julia Alvarez
Miguel Guzman isn't looking forward to summer. Between his annoying family friends crashing in the living room and a baseball injury, it's lucky that Tia Lola is here to save the day with a magical summer camp!
Island of the Blue Dolphins by Scott O'Dell
When Karana's Native American tribe is forced to leave their island by Russian fur hunters, she and her brother miss the ship and get left behind. How will they survive alone on the island?
The Liberation of Gabriel King by K. L. Going
It's 1976, Gabriel King is scared of a lot of things—spiders, killer robots, and loose cows, for starters—and Frita, as the only black kid in a town with an active Ku Klux Klan, knows more than a thing or two about being scared. This is the summer that they both face their fears.
The Miraculous Journey of Edward Tulane by Kate DiCamillo, illustrated by Bagram Ibatoulline
One minute, Edward Tulane is a china rabbit adored by his mistress Abilene in their beautiful house on Egypt Street. The next, he's lost, launched into a journey across the globe to find his way home.
The Book of Storms by Ruth Hatfield
After a major thunderstorm, eleven-year-old Danny wakes up to an empty house. His storm-chasing parents are gone, and the giant sycamore in his backyard has been destroyed. When he picks up a piece of the shattered tree, he discovers he can communicate with the natural world! But Danny isn't the only person who wants these powers. . . If he wants to find his parents again, Danny will have to face his worst fears and battle a terrifying enemy.
Serafina's Promise by Ann E. Burg
Serafina lives in Port-au-Prince, Haiti. Though she dreams of going to school and becoming a doctor, she has more urgent family responsibilities. It's hard to imagine a world beyond the poverty she lives in, and then, the 2010 earthquake strikes . . .
The Crossover by Kwame Alexander
Twin brothers Josh and Jordan Bell are middle-school basketball stars. They used to be close, but now that Jordan is dating the new girl in school, they don't spend as much time together. Josh relays his family's story on and off the court in beats:
"Stop all that quivering. Cuz tonight I'm delivering."
Nonfiction
Almost Astronauts: 13 Women Who Dared to Dream by Tanya Lee Stone
Even though this group of women passed every test required to become an astronaut, NASA refused them the opportunity because of their gender. Read about their inspiring courage and determination.
The Book Itch: Freedom, Truth, and Harlem's Greatest Bookstore by Vaunda Micheaux Nelson, illustrated by R. Gregory Christie
When Lewis's father got a book itch, he scratched it by starting a bookstore in Harlem called the National Memorial African Bookstore. It became a famous symbol of black pride, drawing visitors from Muhammad Ali to Malcolm X!
The Fairy Ring: Or Elsie and Frances Fool the World by Mary Losure
In the early 1900s, cousins Frances and Elsie took pictures of painted paper fairies. The photos, meant to be lighthearted fun, ended up tricking a world of accomplished adults into believing the creatures were real!
A Girl Called Vincent: The Life of Poet Edna St. Vincent Millay by Krystyna Poray Goddu
Follow Edna St. Vincent Millay, one of the most important American poets of the Jazz Age, from a little cabin in rural Maine to her acceptance of the Pulitzer Prize!
GO: A Kidd's Guide to Graphic Design by Chip Kidd, photographed by Geoff Spear
When designers communicate their ideas to the world, they pull out all the stops—form, line, color, scale, and typography all contribute to the way we feel about an image! Delve into a designer's imagination and see the world in a whole new way.
How to Turn $100 into $1,000,000: Earn! Invest! Save! by James McKenna and Jeannine Glista, with Matt Fontaine
From visiting free museums to inventing antigravity popcorn, learn how to be money-smart with this easy-to-follow book!
Neighborhood Sharks: Hunting with the Great Whites of California's Farallon Islands by Katherine Roy, illustrated by Katherine Roy
Follow the great white sharks in their migration to find seal meals!
The Port Chicago 50: Disaster, Mutiny, and the Fight for Civil Rights by Steve Sheinkin
When an explosion killed more than 300 men at a San Francisco naval base, a protest of its dangerous racial segregation was ignited. Read about the heroic men who faced jail—or worse—in their fight for equality.
Secrets of a Civil War Submarine: Solving the Mysteries of the H. L. Hunley by Sally M. Walker
After making history as the first submarine to sink a ship in battle, the H. L. Hunley disappeared. Over 130 years later, it was discovered buried off the coast of South Carolina. Uncover its secrets!
Tracking Trash: Flotsam, Jetsam, and the Science of Ocean Motion by Loree Griffin Burns
Learn about the ocean's currents by tracking trash, from sneakers to bath toys, across the Pacific Ocean! 
And don't stop here! There's a whole world to discover . . . all you need is a book!