A book can take you anywhere—and summer is a great time to go on a reading adventure! We recommend reading at least 15 to 30 minutes each day. Read to yourself or aloud. You can also read aloud with a friend or family member and discuss the book. Here are some questions to get you started:
Who or what is the book about?
Is there a main character? Who is it and describe the character.
Is it a nonfiction or fiction book? Why?
What is the setting of the story (where did it take place?)
Is there a problem in the story? What is it? How is it solved?
Why do you think the author wrote the book? Did you like the book? Why or why not?
Jump-start your reading adventure by visiting your local library or bookstore and checking out the following books.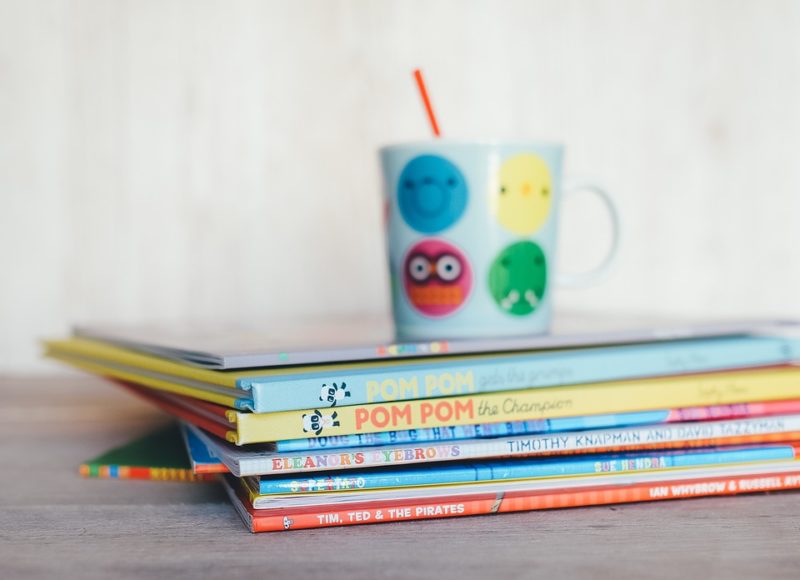 Fiction
Amazing Grace by Mary Hoffman, illustrated by Caroline Binch
Grace's class is putting on Peter Pan. Grace tries out for the lead, but her classmates complain that she doesn't look the part: She's a girl, and she's black. Read how Grace proves them wrong.
Chicka Chicka Boom Boom by Bill Martin Jr. and John Archambault, illustrated by Lois Ehlert
Race the letters of the alphabet up a coconut tree!
Corduroy by Don Freeman
Corduroy is a lonely teddy bear who is stuck on a department store shelf. No one wants to buy him because his overalls are missing a button, so he sets out on a mission to find one! 
Don't Throw It to Mo! by David A. Adler, illustrated by Sam Ricks
Mo loves playing football, even though he may not be the fastest or the biggest player on the team. His friends don't mind, but their rival team teases him for being so small. Will Mo let their teasing stop him?
Franklin in the Dark by Paulette Bourgeois, illustrated by Brenda Clark
Franklin the turtle is afraid of the dark. This wouldn't be a problem, except that he's scared to crawl into his own shell! What should he do? 
Frog and Toad All Year by Arnold Lobel
Frog and Toad are best friends, and they stick together through all kinds of adventures. Follow them through the seasons, from sticky summer to fresh fall through white winter, until a springy spring. 
Ira Sleeps Over by Bernard Waber
Ira is excited to sleep over at his friend Reggie's house for the first time . . . until his sister asks whether he's going to bring his teddy bear along. He's never slept without his teddy bear before. What if Reggie makes fun of him? 
Leo the Late Bloomer by Robert Kraus, illustrated by José Aruego
Leo's father is worried—Leo isn't reading, writing, drawing, or speaking yet. But Leo's mother knows that Leo is going to do all of these things—and more! But when?
The Napping House by Audrey Wood, illustrated by Don Wood
One rainy afternoon, Granny is snoring on a cozy bed. She is joined by a dreaming child, a dozing dog, and more animal characters until the bed is about to burst! 
The Very Hungry Caterpillar by Eric Carle
The snow has finally melted, and this caterpillar has quite the spring-time appetite!
Where the Wild Things Are by Maurice Sendak
A little boy in a wolf costume gets into trouble wherever he goes. At night, his bedroom becomes a jungle filled with monsters, and Max goes on his greatest adventure of all!
Whistle for Willie by Ezra Jack Keats
Peter wants to learn how to whistle for his dog, Willie. But the only people he sees whistling are grownups. How will he learn?
Nonfiction
A Second Is a Hiccup by Hazel Hutchins, illustrated by Kady MacDonald Denton
How long is a second? This book makes counting easy—you can count while you jump rope, climb a tree, or even grow into a new pair of shoes! 
Castle: How It Works by David Macaulay
Go back in time and take a tour of a castle's secret passageways—just watch out for the dungeon! 
For the Love of Soccer! by Pelé, illustrated by Frank Morrison
Pelé knew he wanted to be a soccer star from a very young age. But it wasn't easy—he had to practice hard, stay in school, and learn to work as a teammate. Read about following your dreams. 
I'm a Caterpillar by Jean Marzollo, illustrated by Judith Moffatt
It started off as a tiny egg, then hatched into a caterpillar, and now an even more beautiful shape awaits . . .
Martin's Big Words: The Life of Dr. Martin Luther King, Jr. by Doreen Rappaport, illustrated by Bryan Collier
Dr. Martin Luther King, Jr., was a man with a dream. He used his words to imagine a better world than the one he lived in. Read them and be inspired!
Me on the Map by Joan Sweeney, illustrated by Annette Cable
Compared to the earth, we are all teeny tiny! That's why we use maps—to break it down into smaller sections: your room, your house, your street. Learn to map your world!
Separate Is Never Equal by Duncan Tonatiuh
In the 1940s, Sylvia Mendez was told that she couldn't go to the better school in town because it was only for white children. She knew this wasn't right—read about her victory against school segregation! 
What Do You Do with a Tail Like This? by Steve Jenkins and Robin Page
Have you ever wondered why elephants have such long trunks? This book will answer all your questions about funny animal body parts! 
Wild Ideas by Elin Kelsey, illustrated by Soyeon Kim
Watch how animals solve problems, survive, and thrive! Read about how chimps fold leaves into cups or how a mimic octopus masters make-believe. 
Wild Weather by Katharine Kenah
Did you know that some storm clouds are taller than Mount Everest? Find out more weather facts in this fun book with real pictures taken from space!
And don't stop here! There's a whole world to discover . . . all you need is a book!