Excerpted from Teeny Lamothe's Teeny's Tour of Pie.
On average, a pie in our apartment lasts four or five days, as Aaron happily eats a slice every morning for breakfast and I have a slice or two during the week as an afternoon snack . . . that is, every pie except for apple. An apple pie in our apartment used to sit on our kitchen counter, half eaten, until I got tired enough of looking at it to finally throw it away. It was simply not our favorite pie. Until the fall of 2012. With our move to D.C., we had signed ourselves up for a Community Supported Agriculture (CSA) share through Norman's Farmer's Market, where not only did we get a big basket of veggies once a week, we also got a smaller basket of whatever fruit was in season. Given that we started the share in September, that meant a lot of apples. So, I went back to the drawing board on my standard apple pie recipe and took out a few extraneous spices like allspice and ginger, leaving only a dash of cinnamon and a pinch of nutmeg. These two, when paired with the crisp and tangy apples Maryland had to offer, were perfect. Aaron and I have finished every apple pie since.
If you're opting to make Teeny Pies with this recipe, I recommend dicing the peeled apples into 1-inch cubes rather than slices, because they fit so much more easily into the 5-inch tins.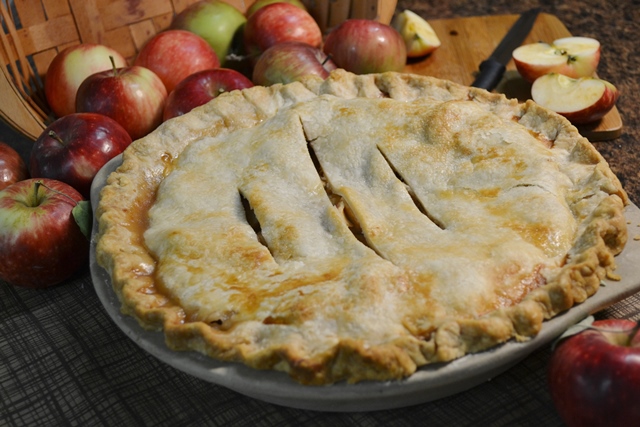 Sweet and Simple Apple Pie
Ingredients
1 cup granulated sugar
2 teaspoons ground cinnamon
¼ teaspoon salt
1 teaspoon ground nutmeg
6 tablespoons all-purpose flour, plus up to ¼ cup extra for rolling out the crust
About 8 apples, peeled, cored, and cut into ½-inch-thick slices (7 cups) or 1-inch cubes for Teeny Pies
2 tablespoons unsalted butter
2 disks dough from Whole Wheat Crust (see recipe below)
Steps
Preheat the oven to 400°F with a rack in the middle position.
Whisk together the sugar, cinnamon, salt, nutmeg, and flour in a small bowl until combined.
Place the apples in a separate large bowl and sprinkle them with the sugar mixture. Toss the apples gently with your fingers or a spoon until they are evenly coated with sugar and spice, and set aside (the apples will begin to juice; cover the bowl with plastic wrap to prevent them from browning).
Prepare the bottom crust: Place one disk of dough on a floured work surface and with a floured rolling pin roll it into a rough 11-inch circle about ⅛ inch thick. Lay the crust into a 9-inch pie dish, gently press it in, and trim any excess dough from the edge with a paring knife, being sure to leave a ¾-inch overhang.
Give the apples one last stir, making sure they are evenly coated, then layer them into the bottom crust. Continue to layer in the apples to form a slight dome. The apples will be an inch or two higher than the rim of the pie dish.
Cut the butter into ¼-inch squares and dot them over the apples.
Prepare the top crust: On a floured work surface with a floured rolling pin, roll out the remaining dough disk into a rough 12-inch circle about ⅛ inch. Carefully lay the crust on top of the filling, and trim any excess dough from the edge, leaving a ¾-inch overhang. Tuck the overhanging dough under the underhanging edge of the bottom crust, and crimp the two crusts together, taking special care to press firmly to seal (apples get very juicy). Cut a few small slits in the top crust with a sharp knife.
Set the pie on a rimmed baking sheet and bake until the filling is thickly bubbling and the crust is golden brown (cover the crimp with foil if it begins to brown too quickly), 50 to 60 minutes. Let cool to room temperature before serving.
Whole Wheat Crust
Whole wheat crust is my go-to for nearly every pie I bake. Whole wheat flour is slightly more challenging to work with because of its low gluten content, but adding vodka to the mix makes for a wonderful, workable dough. I keep my (cheap) vodka in the freezer and the chill of it serves to cool down the rest of my ingredients as I mix the dough together. If you have made pie crust before, you might wonder about the amount of liquid I call for here; I have found that whole wheat flour requires a little more liquid to come together into a ball of dough.
This recipe makes enough dough for a nine-inch top and a bottom crust. If you need only a bottom crust, you can freeze half of this recipe for up to 3 months and save it for later.
Ingredients
1½ cups all-purpose flour
1 cup white whole wheat or whole wheat flour
2 teaspoons salt
2 tablespoons granulated sugar
¾ cup (1½ sticks) cold unsalted butter, cut into small pieces
¼ cup (4 tablespoons) cold vegetable shortening
¼ cup (4 tablespoons) cold vodka
½ cup (8 tablespoons) cold water, plus extra as needed
Steps
In a large bowl, stir together the flour, salt, and sugar until everything is thoroughly combined. Add the butter and shortening and cut the mixture together using a pastry cutter until it forms small pea-size crumbs coated in flour.
Pour the vodka evenly over the dry ingredients, a few tablespoons at a time, using a rubber spatula to press the dough together. Similarly, add the water, and continue to press the dough together to form a large ball. The dough should be fairly wet and sticky; if for some reason it seems particularly dry, add a little extra ice water a tablespoon at a time until everything comes together easily. (Be careful to work the dough as little as possible; otherwise the crust may be tough.)
Divide the dough into two equal balls, press each into a disk, wrap each in plastic, and refrigerate for at least an hour or up to 2 days before rolling out.