From Jeni's Splendid Ice Cream Desserts comes a delightful recipe for Salty Graham Gravel that will work perfectly in your version of "The Exit Through the Café."
Gravels (n.): Crunchy condiments to complement ice creams. Gravels give your ice creams and sundaes crunchy character and flavor! They can be made in any flavor you can dream up.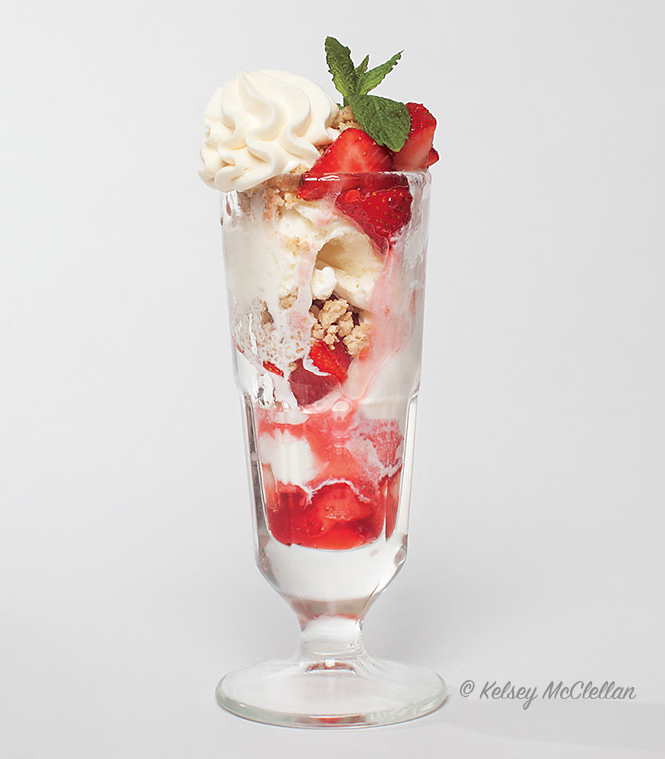 The Exit Through the CafÉ
Salty Graham Gravel
Makes 2 cups
1 cup finely ground graham crackers (from about 13 crackers)
¾ cup unbleached all-purpose flour
2 teaspoons cornstarch
½ cup sugar
2 teaspoons fine sea salt
8 tablespoons (1 stick) unsalted butter, melted
Preheat the oven to 275°F.
Combine the graham cracker crumbs, flour, cornstarch, sugar, and salt in a small bowl. Add the butter and stir until large lumps have formed and all of the dry ingredients are moistened (the mixture should resemble lumpy wet sand). Add the salt, mixing just enough to distribute it evenly. Pour the crumbs onto a baking sheet and spread evenly.
Bake the crumbs for 10 minutes. Remove the pan from the oven and toss the crumbs with two bench scrapers or metal spatulas, then chop into ⅛- to ¼-inch pieces.
Bake for 10 more minutes, or until gravel is a rich brown. Remove from the oven and let cool completely.
To construct this delectable frozen strawberry cheesecake in a tall glass (The Exit Through the Café), layer these ingredients:
Whipped Cream
Farmstead Cheese Ice Cream, made without the jam*
Salty Graham Gravel
Macerated Strawberries
Mint
*Jeni's dessert recipes work with any ice cream—you can choose a recipe from one of her cookbooks, from this month's free ebook, Ben & Jerry's Homemade Ice Cream, or even from the store.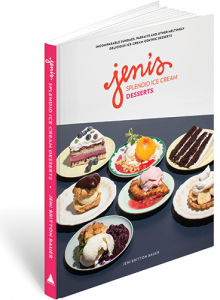 In Jeni's Splendid Ice Cream Desserts, ice creams deliciously melt into hot brown Bettys, berry cobblers, sweet empanadas, and corn fritters. Her one-of-a-kind cakes and cookies are not only served with ice cream, they get crumbled on top and incorporated into the ice cream base itself.
Sundae combinations dazzle with bold and inspired sauces, such as Whiskey Caramel and Honey Spiked with Chilies. And Jeni's crunchy "gravels" (crumbly sundae toppings)—such as Salty Graham Gravel and Everything Bagel Gravel—are unlike toppings anyone has ever seen before.
Store-bought ice cream can be used for all the desserts in the book, but it will be hard to resist Jeni's breakthrough recipes for dairy-free ice cream, frozen custard, and soft-serve. Thirty brand-new flavors, including Cumin & Honey Butterscotch and Extra-Strength Root Beer Ice Cream, attest to the magic of this unique and alluring collection.
GET THE BOOK: Amazon | B&N | ebooks.com | Google Play | iBooks | Kobo