From The Back in the Day Bakery Cookbook comes one of SIX menu posts designed to feed your family what they love, from Baby to Grandparents (and even the Dog!). See the full menu here!
Marshmallows are enjoyed all year round (think s'mores!), but marshmallow season in the the Back in the Day Bakery in Savannah, Georgia is from October through February. Customers love them in hot chocolate or just by themselves as a snack. You can make flavored marshmallows using this recipe as the foundation; just replace the vanilla extract with your favorite flavor.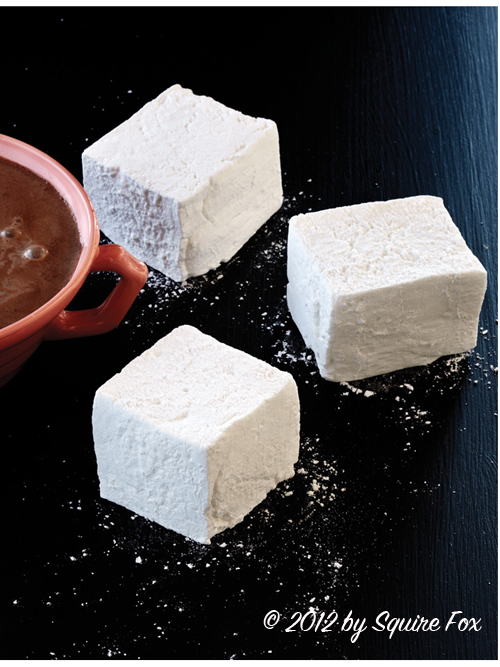 Vanilla Marshmallows
Worlds better than store-bought
Makes 12 large or 24 small marshmallows
Ingredients
2 cups confectioners' sugar, plus extra for dusting
3 cups granulated sugar
1¼ cups light corn syrup
¼ teaspoon fine sea salt
4 envelopes unflavored gelatin
4 teaspoons pure vanilla extract
Special Equipment
Spray a 9-by-13-by-2-inch baking pan lightly with nonstick cooking spray, then coat the pan generously with confectioners' sugar.
In a large saucepan, stir ¾ cup water, the granulated sugar, corn syrup, and salt over medium heat until the sugar is dissolved. Insert a candy thermometer and, without stirring, bring to a boil, then cook until the mixture reaches 240°F, about 10 minutes.
Meanwhile, pour ¾ cup water into the bowl of a stand mixer fitted with the whisk attachment, sprinkle the gelatin over the top, and stir on low speed so that the gelatin softens.
With the mixer on low speed, gradually pour the hot sugar mixture into the gelatin mixture, then blend, gradually increasing the speed to high, until the mixture is fluffy and stiff, 10 to 12 minutes. Turn the speed to low, add the vanilla, and mix to incorporate.
Pour the mixture into the prepared pan and smooth the top with a rubber spatula that has been sprayed with nonstick spray. Let the marshmallow sit at room temperature for 4 to 6 hours, until firm.
Fill a bowl with 2 cups confectioners' sugar. Invert the pan onto a smooth work surface and unmold the marshmallow. Lightly coat a serrated knife with nonstick spray, then cut the marshmallow into 12 or 24 squares, depending on your preference. Pull apart the squares and toss each marshmallow in the confectioners' sugar to coat all over. Store in an airtight container for up to 1 week.
VARIATIONS
Peppermint Marshmallows
Substitute 1 teaspoon peppermint extract for the vanilla.
Chocolate Marshmallows
Substitute chocolate extract for the vanilla, and add 3 tablespoons Dutch-processed cocoa powder along with the chocolate extract.

Nationally recognized and locally adored for its decadent homespun desserts and delicious rustic breads, Back in the Day Bakery is a Savannah landmark. As Paula Deen says in her foreword, Cheryl and Griff Day "bake decadent treats, but they also bake wonderful memories that stay with you forever."
For more recipes like this one, make sure to check out The Back in the Day Bakery Cookbook!
GET THE BOOK: Amazon | B&N | ebooks.com | Google Play | iBooks | Kobo