Ebook Deals
Anton and Cecil, Book 1
by Lisa Martin and Valerie Martin
CHILDREN'S FICTION
Anton is stolen off the dock, and the next thing he knows, he's at sea. Knowing little of the wide open ocean, brave Cecil boards another ship to find his brother. But what begins as a rescue mission turns into a pair of high seas adventures, with thrills and danger bubbling under every wave.
$1.99 $6.95
Amazon » Barnes & Noble » iBooks » Kobo »
Promo ends 7/11/2016
---
Illustrated Book of Bad Arguments
by Ali Almossawi, illustrated by Alejandro Giraldo
PHILOSOPHY
Have you read (or stumbled into) one too many irrational online debates? Ali Almossawi certainly had, so he wrote An Illustrated Book of Bad Arguments! This handy guide is here to bring the internet age a much-needed dose of old-school logic (really old-school, a la Aristotle).
$0.99 $9.95
Amazon » Barnes & Noble » iBooks »
Promo ends 7/18/2016
---
My Grandfather Would Have Shot Me
by Jennifer Teege
MEMOIR
When Jennifer Teege, a German-Nigerian woman, happens to pluck a library book from the shelf, she discovers a horrifying fact: Her grandfather was Amon Goeth, the vicious Nazi commandant depicted by Ralph Fiennes in Schindler's List. The more Teege reads about Goeth, the more certain she becomes: If her grandfather had met her—a black woman—he would have killed her. Teege's discovery sends her, at age 38, on a quest to fully comprehend her family's haunted history—and her own identity.
$1.99 $24.95
Amazon » Barnes & Noble » iBooks »
Promo Ends 7/18/2016
---
Stupidest Things Ever Said
by Kathryn Petras, Ross Petras
HUMOR
Not just stupidity, but obsessive stupidity! Not just random stupidity, but organized stupidity! Here, from the celebrated collectors of the stupidest things ever said, it's the crème de la crème of stupidities, made even funnier and more compelling in an irresistible top 10 list.
$0.99 $10.95
Amazon » Barnes & Noble » iBooks »
Promo Ends: 7/31/2016
Sweepstakes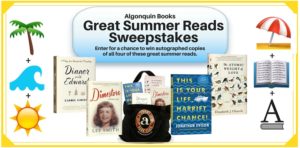 Great Summer Reads Sweepstakes
Enter here for a chance to win autographed copies of this summer's best reads from Algonquin Books.
Sweepstakes Ends: 7/20/2016