Give your BBQ an extra kick with this smashing combination of small-batch Kentucky bourbon on top of a citrus blend and minty frozen love.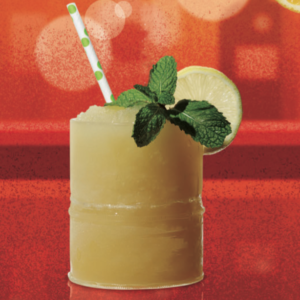 ABV
9.77%
Glass
Up & Down
Ingredients
Garnish
mint leaf, lemon
wheel, and a floppy
hat (for you to wear)
2 3/4 ounces water
9 ounces Simple Syrup
7 1/4 ounces Mint Simple Syrup
6 ounces lemon juice
6 3/4 ounces lime juice
8 3/4 ounces Woodford Reserve Kentucky Straight Bourbon Whiskey
Combine→Place the ingredients in a medium-size metal bowl and stir. Freeze→Pour the liquid into a large freezer bag and place it in the freezer until frozen, approximately 4 hours. Alternatively, pour the liquid into an ice cream maker and proceed per the manufacturer's instructions. Serve→When you're ready to drink, massage the freezer bag by hand until it's a wet, slushy consistency. If it's not breaking up, run the bag quickly under hot water and massage some more.
Get more recipes in Sloshies!
About the Book
It's not your mother's Piña Colada! Sophisticated, flavorful, with fresh ingredients and the perfect hit of booze, a sloshie is a high-octane slushie—the ideal summer drink that's a far cry from the cloyingly sweet blender cocktails of yore.
Written by Jerry Nevins, cofounder of Kansas City's Snow & Co.—named the #1 frozen cocktail bar in the United States—Sloshies features more than 100 innovative refreshers guaranteed to jazz up (and cool down) backyard parties, barbecues, or any gathering with family and friends. And they are so easy to make: Based on a simple granita technique, sloshies require little to no special equipment. Just mix the ingredients, stick them in the freezer, and wait until they're slushy.
Buy the Book
Amazon | B&N | Indiebound | Workman