Every Friday this month, we'll be setting you up for any weekend festivities with a delicious cocktail recipe from Kat Odell's Day Drinking: 50 Cocktails for a Mellow Buzz. First up, a spring-themed party punch that serves 2 dozen (or maybe less, depending on the how bad your week was…)
Preorder the Book
Indiebound | B&N | Amazon | Workman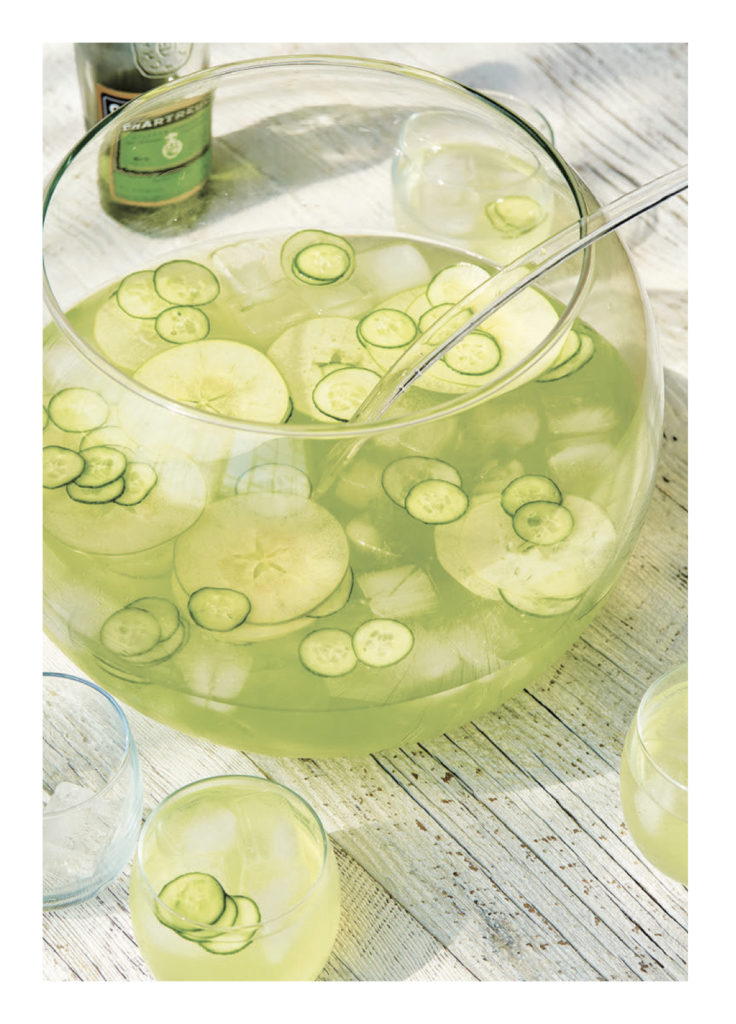 Spring Has Sprung
FROM MO HODGES OF BENJAMIN COOPER, SAN FRANCISCO
The theme for this cocktail is definitely green—Green Chartreuse, lime juice, plus an abundance of green produce. Hello, spring! Despite all the veg in this cocktail, you actually don't need a juicer to make it. Instead, pile your veggies in a blender and puree them until the mixture takes on a slushy, salsa-like consistency. Then, you can either strain the mixture through a sieve or, even easier, pour it through cheesecloth and squeeze to extract all the green gold. I like to save the leftover pulp and incorporate it into muffins.
You'll see that the recipe calls for ascorbic acid, which despite its unusual-sounding name, is actually just vitamin C. While it's perfectly fine to omit it, its function here is to stabilize color and prevent oxidation. You can find powdered ascorbic acid (aka vitamin C powder) at health food stores and online.
SERVES ABOUT 25
Ingredients
4 English cucumbers
4 green apples
1 fennel bulb (stalks and fronds discarded)
1 bunch fresh parsley
½ bunch celery, stalks halved
1 tablespoon ascorbic acid (optional)
4 cups London dry gin
3 cups dry vermouth, such as Dolin Blanc
1½ cups Green Chartreuse
1½ cups fresh lime juice
6¾ ounces Simple Syrup
1½ cups club soda
Instructions
Cut 3 cucumbers, 3 apples, and the fennel bulb into quarters, and place them in a high-powered blender, along with the parsley, celery, and the ascorbic acid, if using. Puree, pausing occasionally to scrape down the sides of the blender, until the mixture has a soupy, salsalike consistency.
Fill a punch bowl with 3 cups ice cubes. Strain the puree through a fine-mesh sieve or cheesecloth into the bowl (set the pulp aside for another use). Add in the gin, vermouth, Green Chartreuse, lime juice, and simple syrup, and stir gently to combine.
Cut the remaining cucumber and apple into ¼-inch-thick slices and float atop the punch. Top with the club soda.