Summer is a great time to go on a reading adventure! We recommend reading at least 15 to 30 minutes each day. Read to yourself or out loud. You can also read aloud with a friend or family member and discuss the book. Here are some questions to get you started:
Who or what is the book mostly about?
Is there a main character? Who is it and describe the character.
Is this a nonfiction or fiction book? Why?
What is the setting of the story (where did it take place)?
Is there a problem in the story? What is it? How is it solved?
Why do you think the author wrote the book?
Did you like the book? Why or why not?
Here are the books we recommend for students between 1st and 2nd grade.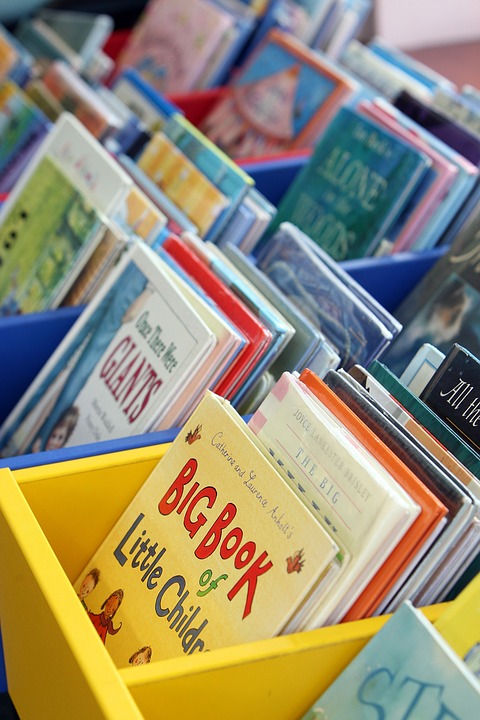 Fiction
The Art Lesson by Tomie dePaola, illustrated by Tomie dePaola
Tommy wants to be an artist when he grows up, but in art class there are all these rules about what he's allowed to draw. When will Tommy get to make his own art?
Blueberries for Sal by Robert McCloskey, illustrated by Robert McCloskey
Sal and her mother are picking blueberries when they come across a mama bear and her cub doing the same thing. There's a mix-up on the hill—will each daughter be reunited with her own mother?
The Day of Ahmed's Secret by Florence P. Heide and Judith H. Gilliland, illustrated by Ted Lewin
Follow Ahmed through the streets of Cairo, Egypt, to find out his secret!
Doctor De Soto by William Steig, illustrated by William Steig
Doctor De Soto is a mouse dentist who's never seen a tooth he couldn't fix. But one day, a fox shows up. Doctor De Soto knows that foxes eat mice—can he still find it in his heart to help him?
How My Parents Learned to Eat by Ina R. Friedman, illustrated by Allen Say
Japanese people eat with chopsticks, while Americans eat with a knife and fork. Follow a man and a woman as they learn each other's customs.
Mary Engelbreit's Mother Goose, written and illustrated by Mary Engelbreit
Meet your favorite characters—from Little Bo-Peep to Humpty Dumpty—in this book full of fun tales that will get you rhyming!
Mirandy and Brother Wind by Patricia McKissack, illustrated by Jerry Pinkney
Mirandy wants to win the cakewalk dance, but she can only do this with a fantastic dance partner.
The Relatives Came by Cynthia Rylant, illustrated by Stephen Gammell
Summer is ripe with possibilities! Grow strawberries, eat melons, and pluck banjos with these fun relatives during their summer stay.
Stellaluna by Janell Cannon, illustrated by Janell Cannon
After an owl attack, fruit bat Stellaluna is separated from her mother and ends up with a new family . . . of birds. Read about how she adapts to bird life.
When Sophie Gets Angry—Really, Really Angry . . . by Molly Bang, illustrated by Molly Bang
Everything is going wrong: Sophie lost her toy, her mom doesn't seem to care, and Sophie is getting really, really angry. Will she ever feel better?
Nonfiction
Do You Know Which One Will Grow? by Susan A. Shea, illustrated by Tom Slaughter
"If a calf grows and becomes a cow, can a shovel grow and become . . . a plow?" Answer fun questions like this one about living and nonliving things!
Lou Gehrig: The Luckiest Man by David A. Adler, illustrated by Terry Widener
Lou Gehrig played for the New York Yankees for fourteen years and didn't miss a single game. Read about his incredible love of the sport.
Mama Miti: Wangari Maathai and the Trees of Kenya by Donna Jo Napoli, illustrated by Kadir Nelson
Mama Miti was an activist who encouraged the people of Kenya to grow their own trees. She taught us that anyone can change the world, one seed at a time!
The Man Who Walked Between the Towers by Mordicai Gerstein, illustrated by Mordicai Gerstein
A street performer is determined to walk a tightrope between the Twin Towers, 1,340 feet in the air, but the police don't want him to. Will the show go on?
Sit In: How Four Friends Stood Up by Sitting Down by Andrea Davis Pinkney, illustrated by Brian Pinkney
When four black college students sat at a "whites only" lunch counter in the year 1960, they changed the course of history.
Telling Time with Big Mama Cat by Dan Harper, illustrated by Barry and Cara Moser
Big Mama is different than other cats because of one thing: she knows how to tell time! Follow her through her day, hour by hour.
To Be Like the Sun by Susan Marie Swanson, illustrated by Margaret Chodos-Irvine
Who knew such a tiny seed could hold so much life? Learn about a sunflower's journey from seed to beautiful bloom.
Track that Scat! by Lisa Morlock, illustrated by Carrie Anne Bradshaw
The best way to track animals isn't just through their paw prints—it's through their poop! Follow Finn and her dog Skeeter on their hike as they learn all about animal behavior.
A Weed Is a Flower: The Life of George Washington Carver by Aliki, illustrated by Aliki
Learn about the life of George Washington Carver, an incredible scientist and inventor who found a new way to grow plants.
Wilma Unlimited: How Wilma Rudolph Became the World's Fastest Woman by Kathleen Krull, illustrated by David Diaz
When she had polio as a child, the doctor said Wilma would never walk again. A decade later, she had competed in two Olympic Games. Read about her journey to becoming the fastest woman in the world. 
And don't stop here! There's a whole world to discover . . . all you need is a book!