Summer is a great time to go on a reading adventure! We recommend reading at least 15 to 30 minutes each day. Read to yourself or aloud. You can also read aloud with a friend or family member and discuss the book. Here are some questions to get you started:
Was the book a nonfiction (informational) or fiction (story/narrative) text? Why?
Who or what was the book about?
What is the setting of the story (where did it take place)?
Was there a main character? Who is it? Describe the character.
Is there a problem in the story? What is it? How is it solved?
Was there a theme in the story?
Were there any lessons in the story?
Why do you think the author wrote the book?
Jump-start your reading adventure by visiting your local library or bookstore and checking out the following books. Track which ones you've read, and write your own review! Would you recommend this book to a friend? Who would you recommend this book to, and why?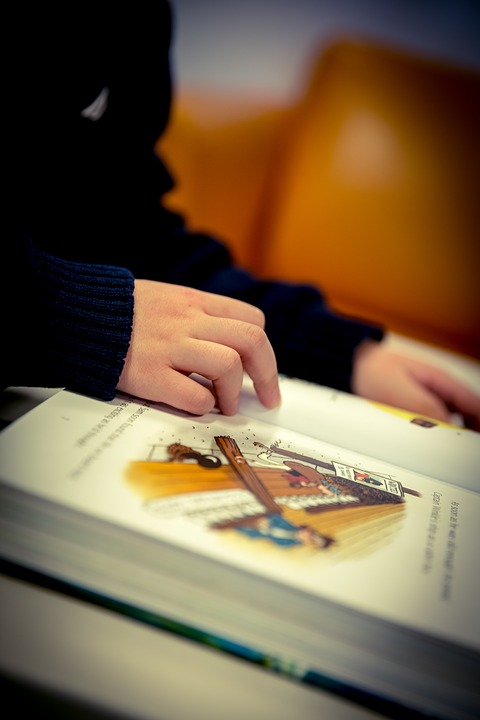 Fiction
Charlotte's Web by E. B. White, illustrated by Garth Williams
Wilbur the pig was born the runt of his litter, and the farmer thinks he's due for slaughter. Luckily his spider friend Charlotte has a clever, web-spinning plan that just might save his life!
The Day the Crayons Quit by Drew Daywalt, illustrated by Oliver Jeffers
Duncan's crayons are on strike. Black is sick of outlining, and blue is tired from filling in all those oceans. How can Duncan get the crayons to color for him again?
Flat Stanley (Flat Stanley Series, No. 1) by Jeff Brown, illustrated by Macky Pamintuan
When a bulletin board flattens Stanley to be half an inch thick, he discovers that flatness has its benefits. Not only can he be flown like a kite, but he can also help catch criminals!
If You Decide to Go to the Moon by Faith McNulty, illustrated by Steven Kellogg
If you dream of being an astronaut, look no further than this nifty guide to space travel!
Frightlopedia: An Encyclopedia of Everything Scary, Creepy, Spine-Chilling, from Arachnids to Zombies by Julie Winterbottom
Love scary stuff? This book has everything from ghost stories to gruesome creatures to scary science. Keep your flashlight handy!
Junie B. Jones and the Stupid Smelly Bus (June B. Jones Series, No. 1) by Barbara Park, illustrated by Denise Brunkus
Junie B. Jones is so scared of riding the bus that she hides in a school supply closet on her first day of kindergarten. And that's just the beginning of her backward adventure.
Marisol McDonald Doesn't Match by Monica Brown, illustrated by Sara Palacios
Marisol likes to make unique combinations—PB&J on burritos, polka-dot shirts with striped pants, and her own red hair and brown skin, which come from her Scottish and Peruvian roots.
Midnight on the Moon (Magic Treehouse Series, No. 8) by Mary Pope Osborne, illustrated by Sal Murdocca
Join siblings Jack and Annie on their space adventure as they travel 40 years into the future!
My Name Is Sangoel by Karen Williams and Khadra Mohammed, illustrated by Catherine Stock
Sangoel is a refugee from Sudan. He misses home; no one in America can pronounce his name, but he refuses to change it. One day, he comes up with a creative solution. . . .
The Search for the Slimy Space Slugs (Doodle Adventures No. 1) by Mike Lowery, illustrated by Mike Lowery
Carl the duck is a member of a super-secret international group of explorers. Join him on an important journey through space—and don't forget to add your very own doodles!
Nonfiction 
Eye to Eye: How Animals See the World by Steve Jenkins, illustrated by Steve Jenkins
The first animal eye didn't look very much like an eye at all; it was just a clump of light-sensitive cells. But animals today have a huge variety of eyes, from pinholes to cameras. See them up close!
The History of Counting by Denise Schmandt-Besserat, illustrated by Michael Hays
How did people count before they had numbers? In this book you'll learn all about the different counting systems around the world that use everything from body parts to pebbles!
How Come?: Every Kid's Science Questions Explained by Kathy Wollard, illustrated by Debra Solomon
If the earth is spinning, why can't we feel it? Find the answer to this question and many more in this fun science book! 
How Big Were Dinosaurs? by Lita Judge, illustrated by Lita Judge
Even though dinosaurs went extinct 65 million years ago, we know how big they were from fossils of their bones. How do they compare to animals that roam the earth today?
Moonshot: The Flight of Apollo 11 by Brian Floca, illustrated by Brian Floca
This is the story of the first time that humans landed on the moon, from the moment of blastoff to Neil Armstrong's iconic first footsteps in space.
Our Solar System by Seymour Simon
Did you know that if the sun were hollow, it could hold 1.3 million Earths? Read this book to find out more about our fascinating solar system!
She Loved Baseball: The Effa Manley Story by Audrey Vernick, illustrated by Don Tate
Effa Manley was the first—and only—woman to be inducted into the Baseball Hall of Fame. Read about her love of the game and her heroic fight for equal treatment.
Sixteen Years in Sixteen Seconds: The Sammy Lee Story by Paula Yoo, illustrated by Dom Lee
Despite the discrimination he faced, diver Sammy Lee trained for 16 years to become the first Asian American to win an Olympic gold medal.
Totally Irresponsible Science: 64 Daring Experiments for Young Scientists by Sean Connolly
From Home-Made Lightning to a Giant Air Cannon, you can demonstrate scientific principles that pop, crackle, ooze, boom, and even stink! 
A Splash of Red: The Life and Art of Horace Pippin by Jen Bryant, illustrated by Melissa Sweet
Ever since he was little, Horace Pippin loved drawing. He wouldn't even let a war wound stop him, and instead used painting to strengthen his injured arm after serving in World War I.
And don't stop here! There's a whole world to discover . . . all you need is a book!