If you live in the U.S., you won't have to travel very far to find world-class adventuring—from rock climbing and hiking to skiing and whitewater rafting. But where to start? We wanted an expert's opinion, so we consulted Brendan Leonard's The Great Outdoors: A User's Guide for his favorite towns for outdoor adventures.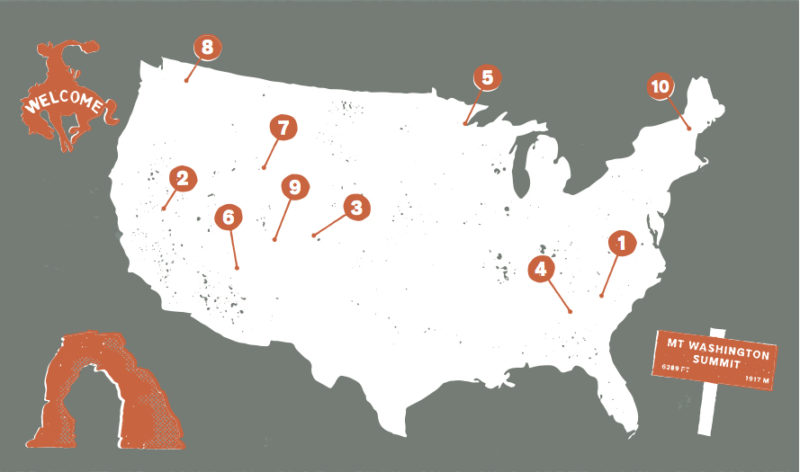 1. Asheville, North Carolina
Its proximity to world-class rock climbing, whitewater, and mountain biking makes it a destination for many outdoor adventurers.
2. Bishop, California
Located at the foot of the Sierras, Bishop features nearby bouldering, rock climbing, hiking, and hot springs.
3. Boulder, Colorado
Boulder has thousands of rock-climbing routes within a 1-hour drive, plus close access to Rocky Mountain National Park and Colorado skiing.
4. Chattanooga, Tennessee
This southern part of the state has whitewater rafting and kayaking, mountain bike trails, and some of the Southeast's best rock climbing.
5. Duluth, Minnesota
Head to Duluth for great mountain biking, hiking, skiing, and paddling on the shore of Lake Superior.
6. Flagstaff, Arizona
You'll find Arizona's best rock climbs here. You can also mountain bike in nearby Sedona, and the Grand Canyon is about a 90-minute drive away.
7. Jackson, Wyoming
Skiing at Jackson Hole is not to be missed, plus the hiking and climbing in Grand Teton National Park are unforgettable.
8. Leavenworth, Washington
Some of the best rock climbing in Washington is near this gateway to the Cascades.
9. Moab, Utah
Located between two national parks, Moab offers opportunities for nearby desert mountain biking, rock climbing, hiking, and off-roading.
10. North Conway, New Hampshire
Surrounded by national forest land, North Conway is close to prime skiing and rock- and ice-climbing locations.
Want more from Brendan Leonard? You can check out his Instagram here!
About the Book
The outdoor market has never been hotter. This easy introduction to outdoor life will ensure that even a novice won't get lost in the woods while finding an activity he loves to do in the great outdoors—whether it's hiking a 14er or camping on ice. With 400 strategies for engaging in the outdoors, and expert tips and tricks, The Great Outdoors: A User's Guide makes Mother Nature easier to understand than ever before. Brendan Leonard, writer, filmmaker, and outdoor adventurer, shows the reader how rewarding it can be to live life away from the computer and get outside. From mountain climbing, to skiing, sledding, and sailing, Leonard shows that you don't need to be a risk taker to enjoy the outdoors. And if the reader does find himself at the point of man vs. nature, Leonard shares survival skills from how to bandage a wound and read a topographical map, to how to drive on sand and remove a tick from your skin. Organized thematically and written in short takeaway entries with line drawings, The Great Outdoors: A User's Guide is a friendly way into the outdoor lifestyle for those who want to dabble or go all in.
Buy the Book
Amazon | B&N | Indiebound | Workman